Tags in Atrium have several uses. Please read below to see how they can be used to reduce errors and to make it easy to find requests.

You launch this view by going to Administration/Maintain Special Conditions (will be Maintain Tags in the next deployment).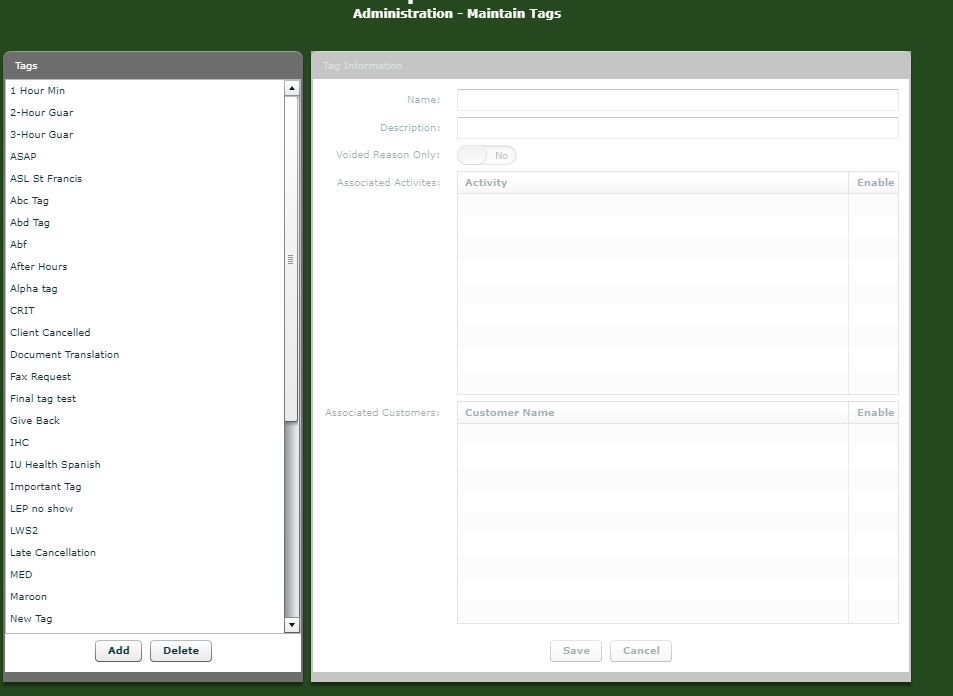 At this point you may click the Add button and fill in the Name (used for list on the left) and the Description to help you remember what this Tag is used for. If you are adding, you need to click Save at this point to put it in the list on the left.

Once a tag is in the list, select it and you can complete the entry of a new tag or edit an existing one. The screen will look like this: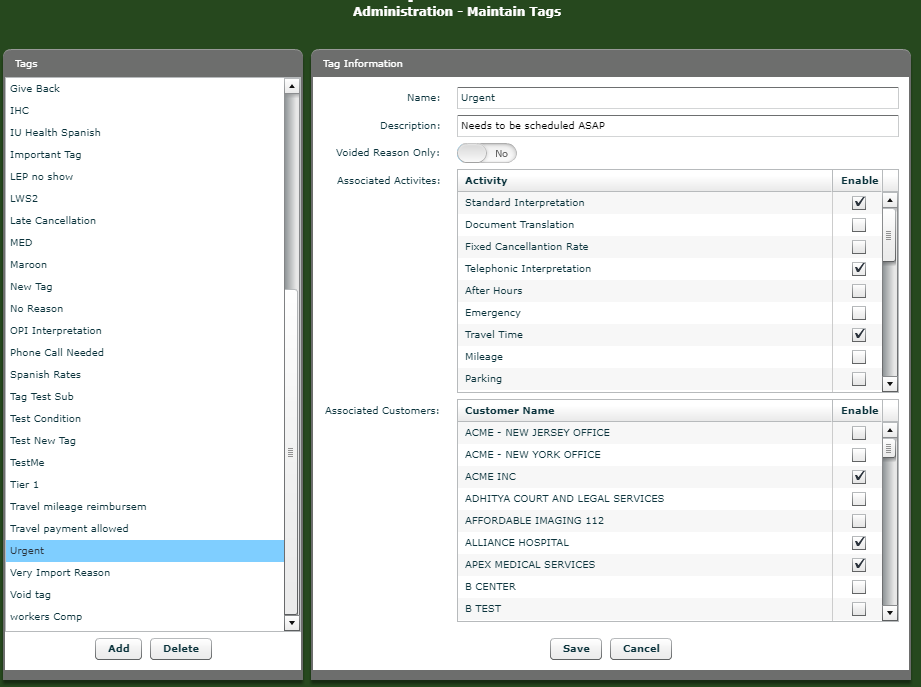 The use of a tag is two-fold:

1) A tag can be added to a request to make it easier to search for when you need to locate or report on certain types of requests that do not fit in any specific request type group. In this case, once the tag is in the list on the left side, you may well be done. It will be available in the 'Tags' type ahead field of a request and also available in the Search tag. If the tag will only be used for describing jobs that have been voided, you will need to turn on the 'Voided Reason Only' switch. When you do this, the next two fields down will be removed since they are no longer pertinent.

2a) If you want to use the tag to filter the activities that can be applied to a job, you will need to click the 'Enable' checkbox for each activity you want to allow to be added to a request when this tag is in the request. As you can see in the example, when the tag 'Urgent' is on a request, only the activities 'Standard Interpretation', 'Telephonic Interpretation' and 'Travel Time' will be permitted to be added to the request. Please bear in mind that if an activity is marked as 'Admin Activity' in Administration/Maintain Activities, it will always be able to be added by an Admin. Likewise, if an activity is not marked as 'Interpreter Activity', the interpreter will not be able to add it. This is true no matter whether you have selected these activities in the Maintain Tags section or not.

2b) Finally, in the Associated Customers box, you can see that ACME INC, ALLIANCE HOSPITAL and APEX MEDICAL SERVICES have been selected. This means that whenever a job is created for any of these customers, this tag will be automatically be added. This setting will apply whether you have chosen Associated

Activities or not.